Savvy investors use 1031 exchanges to defer capital gains tax on the sale of investment property. These transactions also provide an avenue to defer depreciation recapture, healthcare, and state taxes. The IRS allows 1031 exchanges, so they are a perfectly legal investment strategy. However, there are specific criteria you must meet to reap the full benefits of an exchange.
HOW 1031 EXCHANGES HELP INVESTORS DEFER CAPITAL GAINS TAX
1031 exchanges are also called "like-kind" exchanges. Successful exchanges entail the sale of one property and the use of those proceeds to purchase new property. Only investment or business-use property qualifies for an exchange.
The IRS requires investors to use a Qualified Intermediary to facilitate exchanges. Investors have 180 days to complete the exchange to defer capital gains taxes. The clock starts ticking the day the original property sells. At that point, investors must identify replacement property within 45 days. To clarify, you can purchase one or more replacement properties with the proceeds from the relinquished property's sale. However, the new property's total cost should be equal to or greater than the original parcel's Net Selling Price (NSP).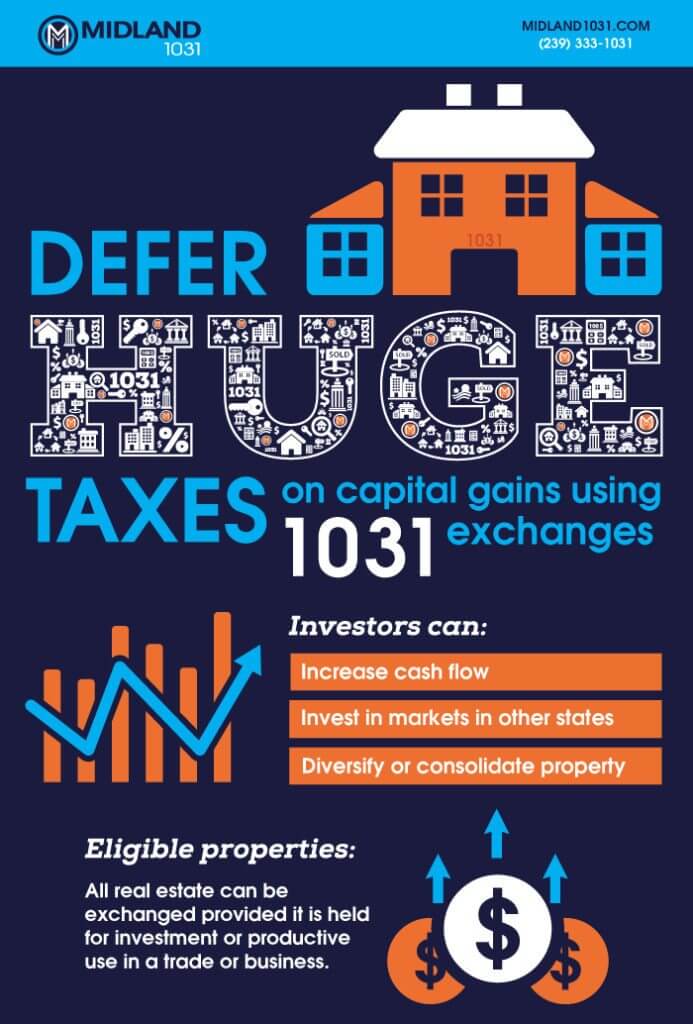 Investors appreciate the benefits of 1031 exchanges. Investors defer capital gains tax every time they use exchanges to buy and sell real estate. In fact, investors strategically use 1031s to defer those taxes to capture additional capital to reinvest. Another key point? Exchanges are used to acquire real estate in other states and to diversify or consolidate different types of property.
To learn about additional benefits of 1031 exchanges, read this article.
You can also contact Midland 1031 if you have questions. As a qualified intermediary, our firm handles hundreds of 1031 exchanges each year that help our clients defer capital gains taxes and use those saved funds to reinvest. We are always here to help!